Executive Director Position Available
---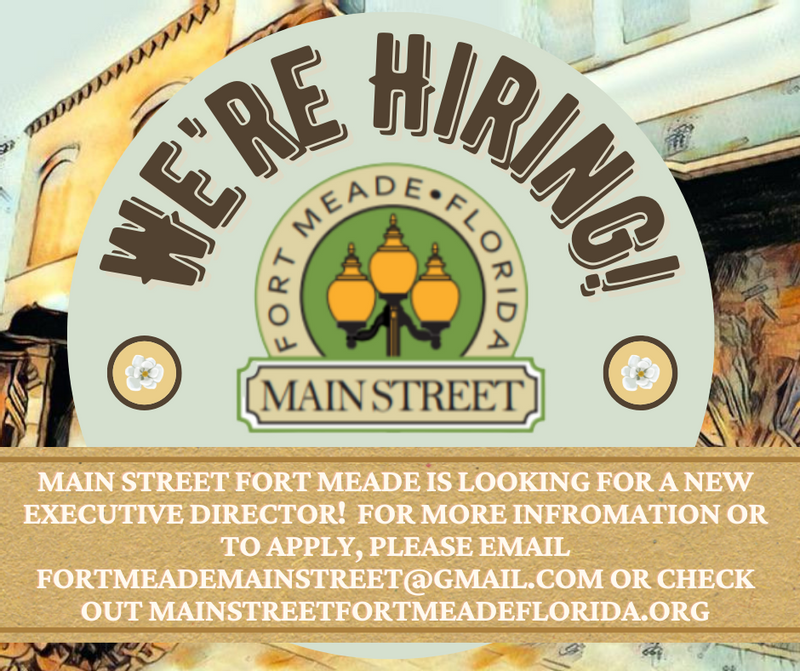 Main Street Fort Meade is looking for a new Executive Director!  Are you a self-starter with big dreams and a passion for community?  Then we've got the job for you!  Both fulfilling and fun, the Executive Director position is a dream job for someone looking for part-time flexible work!  And our Board of Directors is full of top-notch supportive individuals who enjoy coming together for a common goal of revitalizing Downtown Fort Meade!  Send your resume and cover letter to [email protected]
Main Street Fort Meade
Executive Director Job Description 
Position Description:
POSITION TITLE:    Executive Director of Main Street Fort Meade
CLASSIFICATION:   Exempt
POSITION REPORTS TO: Main Street Board of Directors
HOURS PER WEEK: Part-time – 25+
The Executive Director for Main Street Fort Meade should be an organized, dynamic, self-starter with an entrepreneurial spirit, capable of functioning effectively in an independent work environment.  Working in partnership with the Board of Directors, committees, city staff, and the community, the Executive Director is responsible for the coordination and oversight of the Main Street organization, focusing on the revitalization of downtown Fort Meade and the consistent achievement of its mission and objectives. 
Responsibilities include but are not limited to:
·         communication & marketing
·         fundraising & grant writing
·         community & economic development
·         event planning & coordination
·         volunteer recruitment & management
·         small business support
·         strategic planning
Minimum Qualifications
·         The ability to balance day-to-day operations alongside big-picture         visionary thinking; project management experience is a must.
·         Experience in community & economic development, marketing &         communications, public relations, organizational management, downtown         revitalization, and/or civic engagement.
·         Experience working with nonprofits, Board of Directors, and volunteer         committees
·         Excellent communication skills, including public speaking and media         relations
·         Ability to manage multiple projects at one time
Beneficial Qualifications
·         Experience in fundraising and grant writing
·         Experience working with City government
·         Experience forging strategic partnerships in small, rural communities
·         Digital media management skills
·         Understanding of successful marketing and event planning strategies
Physical Demands:
No unusual physical demands required for this job.  Must be able to do sedentary work.  May occasionally have to lift up to 25 pounds typical of most office positions. Reasonable accommodations may be made to enable individuals with disabilities to perform the essential functions.  
Work Environment:
Must be accustomed to professional, business office environment in manner and dress.  Must demonstrate excellent human relations skills with board members, volunteers, and community members.   Must be committed to the Main Street Fort Meade Mission and Goals. Some evenings and weekends will be required.